1. Recent Water-related News
1-1 Floods in Colombia
- March 30, 2021 DG ECHO, 'Colombia; Floods and Landslides during March 21' (Link)

1-2 A Leak from Wastewater Pond in Florida, USA
- April 13, 2021 The Hill, 'Florida wastewater reservoir to close after leak, DeSantis says' (Link)

1-3 Tropical Cyclone Seroja in Indonesia, East Timor, and Australia
- April 15, 2021 Tempo, 'New Piece of Land Emerges in NTT Post Cyclone Seroja Devastation' (Link)

- April 19, 2021 Yahoo News, 'Power still out after Seroja smashes WA' (Link)

2. International Conferences, Forums and Programs
IDI-Japan supported MLIT in organizing the following online meetings.
2-1 The 8th Vietnam-Japan Disaster Management Collaboration Dialogue Workshop
The 8th Vietnam-Japan Disaster Management Collaboration Dialogue Workshop was held online on March 1, 2021 hosted by Ministry of Land, Infrastructure, Transport and Tourism (MLIT) of Japan. It was based on the MoC signed between MLIT of Japan and Ministry of Agriculture and Rural Development (MARD) of Vietnam.
The main objective of the meeting was to introduce Japanese hydrological observation technology and to share the recent topics on water-related disaster management in both countries.
The Embassy of Japan in Vietnam and Japan International Cooperation Agency (JICA) experts also supported the meeting.

| | | |
| --- | --- | --- |
| Vietnam Side | Japan Side | Simultaneous Interpretation |
2-2 The Online Workshop for Disaster Management between the Republic of the Philippines and Japan
This workshop was held online on March 8, 2021 to share information on disaster prevention and exchange opinions for the future cooperation. The participants were MLIT (host), International Centre for Water Hazard and Risk Management (ICHARM), the Embassy of Japan, JICA, Infrastructure Development Institute (IDI) - Japan and CTI Engineering International (CTII), and Department of Public Works and Highways (DPWH), National Economic and Development Authority (NEDA), Department of Environment and Natural Resources (DENR), Office of Civil Defense (OCD), Philippine Atmospheric, Geophysical and Astronomical Services Administration (PAGASA) etc.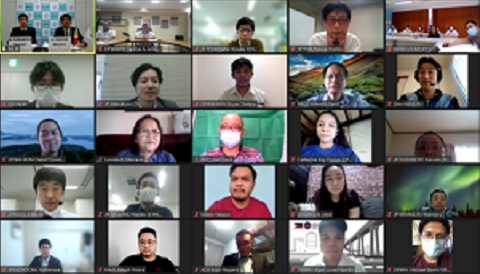 Vice Minister Kunihiro Yamada of Engineering Affairs, MLIT
Secretary General Mohamad Zainal Fatah of MPWH
2-3 High-Level Meeting on the Implementation of the Water-related Goals and Targets of the 2030 Agenda
This online meeting was held on March 18, 2021 hosted by the President of the UN General Assembly. Member States of United Nations shared their experiences and lessons on promoting the progress of achieving SDG6 at national, regional and global level and accelerating concrete actions through multilateral cooperation to meet the water-related goals and targets of the 2030 Agenda.
Minister Akaba of MLIT made a statement in a video message. He mentioned numbers of severe water-related disasters are being reported even in the COVID-19 pandemic and are expected to manifest due to climate change. He emphasized focusing not only on SDG6, the target for clean water and sanitation, but also on SDG Target 11.5 to reduce disaster damage by paying close attention to water-related disasters and climate change. For the 2023 Mid-term Review Conference, he expressed his intention to share information and data regarding disaster prevention and to contribute to progress management required for the follow-up.
For more details, please refer to the following links:
United NationsLink
MLIT (in Japanese)Link

3. Others
The purpose of IFNet is to share information on flood issues among IFNet members. Your participation and provision of flood information are always welcome. If you have any information you would like to share, please email to IFNet Secretariat.


Registration
If you and your partners are willing to join the IFNet, Please send e-mail to IFNet Secretariat with following information.

1. Name, 2.Nationality, 3.Organization, 4.Position, 5.Address, 6.Telephone number, 7.E-mail Address


When Transferred
When you are to be transferred, please let us know your new regestration information and also introduce the IFNet to your successor.
Thank you.