1. Recent Water-related News
1-1 Floods and Landslides in East Africa
- May 22, 2020 CBC, 'Locusts, COVID-19, flooding pose 'triple threat' in East Africa' (Link)

1-2 Dam Failures in Michigan, USA
- May 21, 2020 CNBC, 'Photos show devastating impact of Michigan floods' (Link)

1-3 Tropical Cyclone Amphan in India and Bangladesh
- May 22, 2020 BBC, 'Cyclone Amphan: Survivors return to face destruction left by storm' (Link)

1-4 Tropical Cyclone Amanda =>Tropical Storm Cristobal in Central America and USA
- June 2, 2020 abc NEWS, 'Tropical Storm Amanda kills at least 20 in Central America, fears of cyclone forming near Mexico' (Link)
- June 10, 2020 Weather.com, 'Tropical Storm Cristobal Hammered the Gulf Coast With Storm Surge, Heavy Rain, Then Tracked Into the Upper Midwest' (Link)
1-5 Floods in South China
- June 16, 2020 The Watchers, '8.5 million people affected, 63 killed as intense downpours continue to pound southern China' (Link)

2. International Conferences, Forums and Programs
The Fifteenth Meeting of the High-level Experts and Leaders Panel on Water and Disasters (HELP)
The Fifteenth Meeting of the High-level Experts and Leaders Panel on Water and Disasters (HELP) was held on 29th May 2020 online via zoom. It was chaired by Dr. Han Seung-soo, former Prime Minister of the Republic of Korea, and attended by 84 participants from HELP member organizations representing national governments, international organizations, academia, civil society and private sectors, including Mr. YAMADA Kunihiro, Vice-Minister for Engineering Affairs, Ministry of Land Infrastructure and Transport (MLIT).
HELP was established in 2014 in order to enhance proactive disaster prevention countermeasures and mitigate water-related disasters, such as floods, droughts, storm surges and tsunamis, which have not only struck more frequently but have also been more severe in recent years all over the world.
HELP created the principles to address water-related disaster risk reduction (DRR) under the COVID-19 and decided to make them public. Infrastructure Development Institute (IDI) – Japan supported MLIT participation and helped HELP secretariat to make the meeting minute.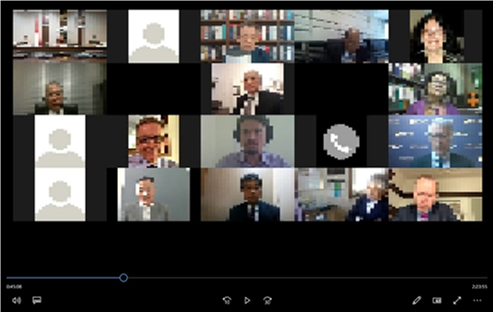 An Image captured during the Meeting
3. Others
The purpose of IFNet is to share information on flood issues among IFNet members. Your participation and provision of flood information are always welcome. If you have any information you would like to share, please email to IFNet Secretariat.


Registration
If you and your partners are willing to join the IFNet, Please send e-mail to IFNet Secretariat with following information.

1. Name, 2.Nationality, 3.Organization, 4.Position, 5.Address, 6.Telephone number, 7.E-mail Address


When Transferred
When you are to be transferred, please let us know your new regestration information and also introduce the IFNet to your successor.
Thank you.