1. Recent Water-related News
1-1 Floods and Landslides in southeast Brazil
- March 5, 2020 CNN, 'Brazil lashed by heavy rains, leaving at least 32 dead' (Link)

1-2 Floods and Landslides in Khyber Pakhtunkhwa, Pakistan
- March 29, 2020 The Watchers, 'Continuous heavy rains, floods and landslides claim 72 lives, destroy or damage nearly 1000 buildings in Khyber Pakhtunkhwa, Pakistan' (Link)

1-3 Floods in Middle East
- April 15, 2020 The Watchers, 'Severe, fatal flooding continues across 14 provinces of Iran' (Link)

- April 18, 2020 Afghanistan Times, 'Fatal Floods Kill 47 in Afghanistan in Past Weeks' (Link)

1-4 Tropical Cyclone Harold in South Pacific Islands
- April 14, 2020 AXIOS, 'Tropical Cyclone Harold challenges disaster and public health management' (Link)

1-5 Floods in DR Congo
- April 19, 2020 Daily Sabah, 'Flooding displace 10,000 families, at least 25 killed in DR Congo' (Link)

2. International Conferences, Forums and Programs
Myanmar-Japan Disaster Management Collaboration Dialogue Workshop
The 6th Workshop for Disaster Management Collaboration Dialogue between Myanmar and Japan was held at the conference room of Horizon Lake View Hotel in Naypyidaw on March 5th, 2020. Presentations and discussions dealing with "Myanmar Climate Change Strategy, Master Plan 2019 and Myanmar Climate Change Policy 2019", and "History of River Planning, Development and Effectiveness of Infrastructures on Flood Disaster Risk Reduction in Japan" etc. are implemented.
Ministry of Land, Infrastructure, Transport and Tourism (MLIT), Department of Disaster Management (DDM), Directorate of Water Resources and Improvement of River Systems (DWIR), Department of Meteorology and Hydrology (DMH), and Irrigation and Water Utilization Management Department (IWUMD) reached a consensus on keeping cooperation together and concluded with good relationship.
| | |
| --- | --- |
| At the Conference Room | Souvenir Exchange |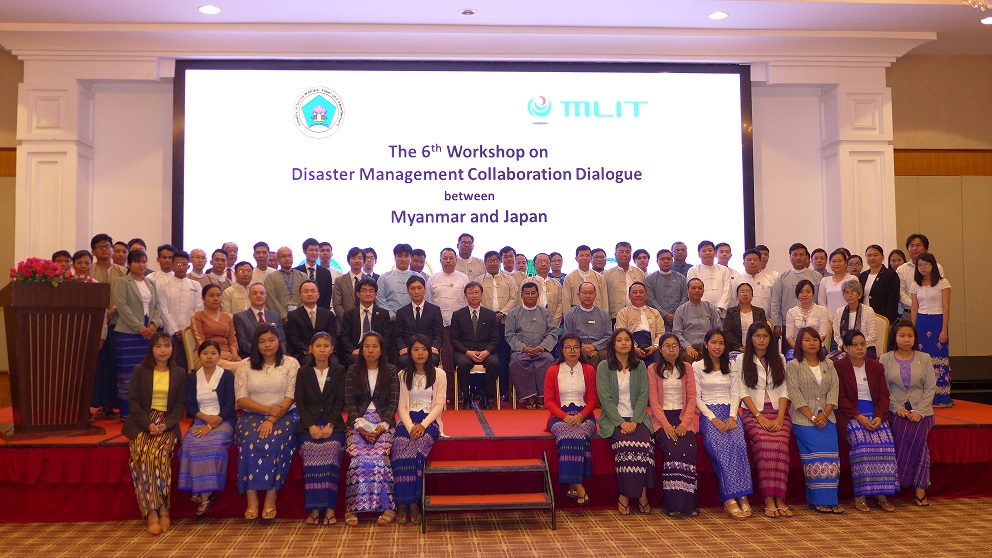 Group Photo
3. Others
The purpose of IFNet is to share information on flood issues among IFNet members. Your participation and provision of flood information are always welcome. If you have any information you would like to share, please email to IFNet Secretariat.


Registration
If you and your partners are willing to join the IFNet, Please send e-mail to IFNet Secretariat with following information.

1. Name, 2.Nationality, 3.Organization, 4.Position, 5.Address, 6.Telephone number, 7.E-mail Address


When Transferred
When you are to be transferred, please let us know your new regestration information and also introduce the IFNet to your successor.
Thank you.