1. Recent Water-related News
1-1 Typhoon Phanfone=Ursula in the Philippines
- December 31, 2019 The Watchers, 'Typhoon "Phanfone" claimed 50 lives, affected 2.1 million people and wiped out 20 million dollar worth of farm products, Philippines' (Link)

1-2 Floods and Landslides in Indonesia (Jakarta)
- January 8, 2020 Time, '66 People Have Died in Indonesia's Devastating Floods. Here's What to Know' (Link)

1-3 Storm Gloria in Europe
- January 24, 2020 euronews, 'Storm Gloria: Death toll rises to 13 in Spain as south-west France battens down the hatches' (Link)

1-4 Floods in Brazil (Minas Gerais, Espirito Santo and Rio de Janeiro)
- January 28, 2020 AXIOS, 'In photos: Brazil heavy rain and floods kill dozens and displace 30,000' (Link)

1-5 Floods in Tanzania
- February 6, 2020 Daily Nation, 'Heavy rains wreak havoc in Tanzania, 40 confirmed dead' (Link)

1-6 Storms Ciara and Dennis in Europe
- February 11, 2020 BBC, 'Storm Ciara kills at least seven in Europe' (Link)
- February 19, 2020 AccuWeather, 'Storm Dennis punishes UK, northern Europe with damaging winds and flooding rain' (Link)

2. International Conferences, Forums and Programs
Indonesia - Japan Disaster Management Collaboration Dialogue Workshop
The 5th collaboration dialogue workshop between Indonesia and Japan on water related disaster management was held at the conference room in Ministry of Public Works and Housing (PUPR) in Jakarta on February 11, 2020.
Presentations and discussions dealing with Non-Structural measures for disaster evacuation and Structural measures mitigating external forces are implemented by each session. Ministry of Land, Infrastructure, Transport and Tourism (MLIT), Japan Water Agency (JWA), National Disaster Management Agency (BNPB) and Department of Water Resources, Ministry of Public Works and Housing (PUPR) reached a consensus on keeping cooperation together and concluded with good relationship.
| | |
| --- | --- |
| Workshop Participants | Souvenir Exchange |
3. Visit to Japanese Dam and Water Level Gauge sites by DID, Malaysia
6 members from Department of Irrigation and Drainage (DID) of Ministry of Land, Water and Natural Recourses, Malaysia visited Japan from January 20 to 23, 2020. They had site visits as shown below and exchanged opinions with Japan's Ministry of Land, Infrastructure, Transport and Tourism (MLIT) and Japan Water Agency.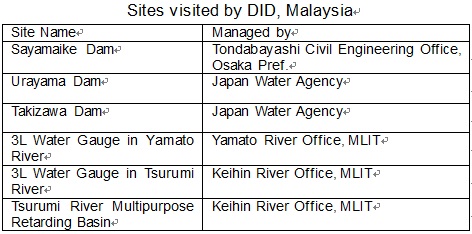 This visit by DID Malaysia was one of the activities agreed in Collaboration Meeting and Field Study between Malaysia and Japan on Dam Safety, Operation and Upgrading held on Oct. 23 and 24, 2019. IDI-Japan provided full support.
The entire schedule went smoothly in pleasant weather, and knowledge sharing for future cooperation was improved between Malaysia and Japan.
| | |
| --- | --- |
| Group Photo at MLIT | Site Visit to Sayamaike Dam in Osaka |
4. Field Survey in Indonesia
Director Tokunaga of IDI-Japan visited Jakarta from February 2 to 5 to conduct field investigation on flood damage in Ciliwung River, Jakarta as well as on installation condition of water level gauges. The purposes of this survey were to understand current situation of early warning by Indonesia's Ministry of Public Works and Housing and the relevant organizations and to collect information to consider potential for applying 3L (Low cost, Long life and Localism) Water Level Gauge which is one of infrastructure system for overseas expansion by Japanese government.
Based on interviews, when major floods occurred on January 2, 2020, some residents had to evacuate from the roofs of neighbor houses through their 2nd floor as the 1st floor was rapidly inundated. Regarding the existing water level gauges in Jakarta, three types of observation with different surroundings were confirmed.
| | |
| --- | --- |
| Needs assessment for 3L Water Level Gauge | Interviewing on existing system |
5. Others
The purpose of IFNet is to share information on flood issues among IFNet members. Your participation and provision of flood information are always welcome. If you have any information you would like to share, please email to IFNet Secretariat.


Registration
If you and your partners are willing to join the IFNet, Please send e-mail to IFNet Secretariat with following information.

1. Name, 2.Nationality, 3.Organization, 4.Position, 5.Address, 6.Telephone number, 7.E-mail Address


When Transferred
When you are to be transferred, please let us know your new regestration information and also introduce the IFNet to your successor.
Thank you.