1. Recent Water-related News
1-1 Floods and Tornadoes in USA (Midwest and South)
Deadly storms hit several states in the U.S.
2017.5.1 CTV News "U.S. Midwest, South brace for flooding and tornadoes" (Link)

1-2 A Landslide in Kyrgyz Republic
Heavy rain triggered an enormous landslide.
2017.5.1 Pulse.ng "24 dead as landslide engulfs village homes" (Link)

1-3 Flood in Canada
Torrential downpour paired with melting snow continued to wreak havoc across eastern Canada.
2017.5.7 the star.com "Montreal declares state of emergency as flooding continues" (Link)

1-4 Floods in Kenya
Deadly floods set to worsen poverty and hunger in Kenya.
2017.5.15 PM News Nigeria "Floods Kill 26 in Kenya" (Link)

1-5 Floods and Landslides in Sri Lanka
Floods and landslides caused by heavy monsoon rainfall battered 15 districts.
2017.5.31 Sky News "Flooding and mudslides kill 200 in Sri Lanka" (Link)

2017.6.5 Daily Mail "Sri Lanka hails record military deployment as toll hits 213" (Link)

1-6 Cyclone Mora (Bangladesh and Myanmar)
Cyclone Mora pummeled Bangladesh and Myanmar with high winds and heavy rain.
2017.6.2 UNHCR "Cyclone Mora: Urgent shelter needs in Bangladesh, Myanmar" (Link)

1-7 Storm in Russia
Thunderstorms and strong winds battered Moscow and its surrounding areas.
2017.5.30 RT.com "Dozen killed, over 120 injured in Moscow as severe storm causes havoc" (Link)

2017.5.30 Radio Free Europe/Radio Liberty "Violent Storm Killed 16 In And Around Moscow" (Link)

2. International Conference, Forum, and Program
JICA Training Course: Water Related Disaster Management supported by IDI-Japan
A JICA training course, "Water Related Disaster Management (Preparedness, Mitigation and Reconstruction)" was held from May 15 to June 9, 2017 with support of IDI. 14 participants from 13 countries took part in this course to study Japanese policies and countermeasures against water related disasters. The 13 countries were Albania, Brazil, Chile, Macedonia, Malaysia, Morocco, Myanmar, Peru, Samoa, Sri Lanka, Thailand and Vietnam.
Ministry of Land, Infrastructure, Transport and Tourism (MLIT), National Institute for Land and Infrastructure Management (NILIM), Public Works Research Institute (PWRI), Japan Aerospace Exploration Agency (JAXA), National Research Institute for Earth Science and Disaster Resilience (NIED), and private firms gave lectures and instructed exercises on a wide range of topics, such as precipitation observation, policymaking, and community disaster prevention.
The participants visited Kiso Sansen (three rivers), Ibi River in particular. The purpose of this technical field tour is to learn about Japanfs river development by touring all the way through the river. Among the sites they visited are Nagaragawa Estuary Barrage, the lower Kiso River System including ring levees (traditional river technology in Japan), Etsumi Sankei erosion control facility, and Tokuyama Dam.
Additionally, they observed the large scale flood fighting and rescue / relief drills of Tone River which are conducted every year before flood season. They also experienced sandbag making for flood fighting.

| | |
| --- | --- |
| Tone River Flood Fighting Drill | Drainage Pump Station of Takasu Ring Levee in Kiso River |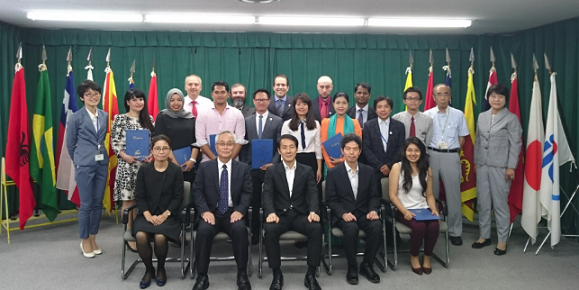 Closing Ceremony
3. Others
IFNet is an open network, purpose of the activities is to share experiences and information on flood issues. We look forward to your active participation and flood related information to be shared among participants. If you have any information you would like to share with IFNet members via Newsletter, please email to the IFNet Secretariat for contact.


Registration
If you and your partners are willing to join the IFNet, Please send e-mail to IFNet Secretariat with following information.

1. Name, 2.Nationality, 3.Organization, 4.Position, 5.Address, 6.Telephone number, 7.E-mail Address


When you are Transferred
When you are to be Transferred, please introduce the IFNet to your successor.