1. Recent Water-related News
1-1 Floods and Landslides in Indonesia
Torrential rains triggered flooding and landslides in Central Java, West Sumatra and North Sulawesi in June.
2016.6.20 The Express Tribune "Death toll from Indonesia floods, landslides rises to 43" (Link)

1-2 Floods in U.S.A. (West Virginia)
West Virginia was hit by extreme rainfall and record-breaking flooding.
2016.6.26 NPR "Obama Declares Major Disaster In West Virginia After Historic Flooding" (Link)

1-3 Floods and landslides in China
China has been suffering from waves of severe weather this year.
2016.7.4 International Business Times "China hit by deadly floods and landslides after days of continuous torrential rain" (Link)
2016.7.24 Epoch Times "600-Year-Old Forbidden City Untouched in Flooded Beijing" (Link)
1-4 Typhoon Nepartak (Taiwan and China)
Super Typhoon Nepartak battered Taiwan and eastern China.
2016.7.10 The Big Wobble "500,000 evacuated as deadly Typhoon Nepartak makes landfall in China" (Link)

1-5 Floods and landslides in South Asia (Nepal, India, Bangladesh, Pakistan and Bhutan)
Heavy Monsoon rains have been causing widespread damage across South Asia.
2016.8.8 Scrool.in "Five neighbours, one problem: South Asia's countries have gone from drought to flood in 45 days" (Link)

2. International Conference and Forum
JICA training course: Water Related Disaster Management supported by IDI
JICA Tsukuba training course, "Water Related Disaster Management (Preparedness, Mitigation and Reconstruction)" was held from May 23 to June 17, 2016 with support of IDI. 17 participants from 13 countries took part in this course to study Japanese countermeasures against water related disasters. The 13 countries were Bosnia and Herzegovina, Brazil, Chile, Georgia, Malaysia, Morocco, Myanmar, Philippines, Samoa, Sri Lanka, Former Yugoslav republic of Macedonia, Turkey and Vietnam. Ministry of Land, Infrastructure, Transport and Tourism (MLIT), National Institute for Land and Infrastructure Management (NILIM), Public Works Research Institute (PWRI), Meteorological Research Institute (MRI) and Japan Aerospace Exploration Agency (JAXA) gave lectures and practices on a wide range of topics, such as precipitation observation, policymaking, and community disaster prevention. The participants visited various sites managed by Yodogawa River Office, Kinki Regional Development Bureau of MLIT in order to understand how to implement policies and plans. Among the sites were Torishima District Super Levee, Yodogawa Sluice, Kema Drainage Pump Station, Johoku Riverine Lagoon, Separation Levee of Confluence of three rivers (Kizu River, Yodo River, and Katsura River) and Arashiyama River Improvement Project Site.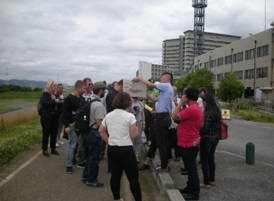 Visit to Torishima Super Levee on May 30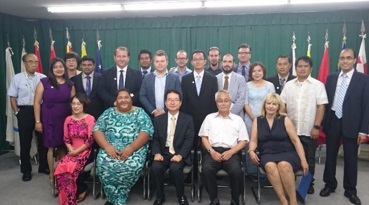 Closing Ceremony on June 17
3. Others
IFNet is an open network, purpose of the activities is to share experiences and information on flood issues. We look forward to your active participation and flood related information to be shared among participants. If you have any information you would like to share with IFNet members via Newsletter, please email to the IFNet Secretariat for contact.


Registration
If you and your partners are willing to join the IFNet, Please send e-mail to IFNet Secretariat with following information.

1. Name, 2.Nationality, 3.Organization, 4.Position, 5.Address, 6.Telephone number, 7.E-mail Address


When you are Transferred
When you are to be Transferred, please introduce the IFNet to your successor.