1. Recent Water-related News
1-1 Flood in Fiji
Fiji was affected heavily by several storms and 2 cyclones, Winston in February and Zena in April.
2016.2.21 ABC Radio Australia "Tropical Cyclone Winston: Fallen power, phone lines hamper relief efforts in Fiji" (Link)
2016.4.6 Stuff.Co.NZ "Cyclone Zena due to hit Fiji six weeks after Winston" (Link)
1-2 Flood in USA (South)
Storms with record rainfall brought flooding in Southern USA.
2016.3.11 The Jamestown Sun "Drenched U.S. South facing more heavy rain after flood deaths" (Link)

1-3 Flood in Pakistan
Severe weather since March 9 has been causing disastrous floods and landslides.
2016.3.14 Press TV "Deaths from flooding in Pakistan rises to 42" (Link)
2016.4.4 The Guardian "Thousands stranded by floods and landslides in north-west Pakistan" (Link)
1-4 Drought and Salt Intrusion in Mekong
Mekong is facing serious drought and salinization.
2016.2.23 Vietnam.net "Drought and saltwater attack Mekong Delta" (Link)
2016.3.28 AEC News Today "Mekong Delta Drought Wreaking Economic Havoc" (Link)
2. International Conference and Forum
2-1 Indonesia-Japan Workshop: Water and Disaster Management
Second Collaboration Dialogue Workshop between Indonesia and Japan on Water and Disaster Management was held in Jakarta on March 7, 2016. The workshop was based on the MOU between Indonesia's Ministry of Public Works and Housing (PUPR) and Japan's Ministry of Land, Infrastructure, Transport and Tourism (MLIT) in 2013. With attendance of the representatives from the governments and the relevant organizations, such issues as dam construction, countermeasures of dam sedimentation, water rights, and water utilization administration were discussed.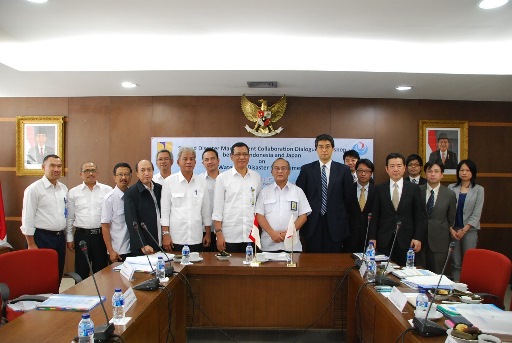 Indonesia-Japan workshop
3. Others
IFNet is an open network, purpose of the activities is to share experiences and information on flood issues. We look forward to your active participation and flood related information to be shared among participants. If you have any information you would like to share with IFNet members via Newsletter, please email to the IFNet Secretariat for contact.


Registration
If you and your partners are willing to join the IFNet, Please send e-mail to IFNet Secretariat with following information.

1. Name, 2.Nationality, 3.Organization, 4.Position, 5.Address, 6.Telephone number, 7.E-mail Address


When you are Transferred
When you are Transferred, please introduce the IFNet to your successor.